SWIMMING WILL NEVER BE THE SAME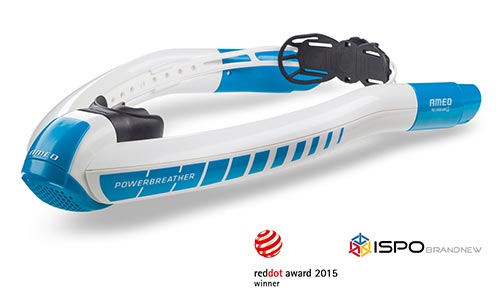 Breathe in the water as freely as never before. The POWERBREATHER is an innovative sports tool for swimming, triathlon and diving. No matter how long and intensively you swim: It always supplies you with optimum oxygen without water infiltrating – in contrast to conventional snorkels.
It perfectly adjusts to your head shape, fits comfortably and reliably. That's due to its patented technology and its excellent design.
FEATURES
The POWERBREATHER offers functionality made to measure. Due to its modular system the tool can be adjusted exactly to the environment and personal training requirements. Consequently it is possible for high performance swimmers and triathletes to intensify training step by step. Through variation of the membrane and caps built into the SPEED VENTS, resistance and air volume during breathing in can be changed. They can thus specifically strengthen the respiratory muscles or set an additional training incentive by a thus created lack of oxygen. We use special membranes for the SPEED VENTS. You will quickly get used to the initial slight breathing resistance caused by the membranes. Specifically for open water swimmers the POWERBREATHER offers variable tube extensions and special diffusers to be well equipped for different wind and wave conditions.
AMEO FRESH AIR SYSYEM
The patented AMEO FRESH AIR SYSTEM makes the POWERBREATHER unique. Contrary to a conventional snorkel you breathe in and out via two completely separate channels. Thereby only fresh, oxygen-rich air gets into your lungs. At the same time the innovative ventilation technology prevents water getting in. The Result: With a Powerbreather you can now breathe air in when swimming, as naturally as when breathing on land.

SPEED VENT
Membrane allowing air in but keeping water out. Choose from 2 lengths (standard, long) and 3 levels of resisance (easy, medium, power).
EASY FIT AIR JUNCTION
Quick application with maximum fitting accuracy and wearing comfort.
TWIST LOCK SYSTEM
Comfortable adjustment to the individual size of the head
D-TUBES
D-shaped profile for comfortable, secure hold with optimum airflow (inside) and flow resistance (outside).
How to video
Who is it for?
Endorsed by
Jan Frodeno, triathlete, Olympic Champion, World and European Champion
Thomas Lurz, open water swimmer, 12-times World Champion
Christian Redl, successful freediver
Steffen Deibler, swimmer, world record holder
Paul Biedermann, swimmer, World Champion, world record holder
100% Moneyback guarantee
Buy now and try it for 6 weeks – if you dont like it then please get in touch and return it for a full refund.