Core Benefits
The AMEO POWERBREATHER is ideal for triathlon training, pool or open water swimming and free diving. Developed in Germany it has won a number of international awards. For amateur and international sportsmen and women it is fast becoming an essential training tool, as it allows respiratory muscle training to be combined with technique training. A new generation snorkel for a new swimming generation.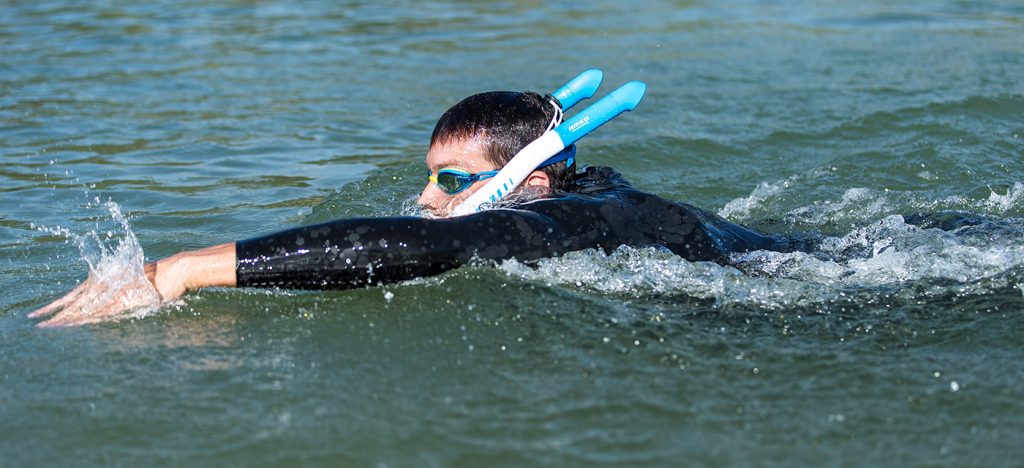 The AMEO FRESH AIR SYSTEM allows the swimmer to inhale clean, fresh air all the time, preventing the performance reduction caused by conventional snorkels, whose "pendulum breathing" draws exhaled air back into the lungs with each breath.
One way valves, using membrane technology prevent water penetration. The system stays dry and the breathing tubes are never blocked.
Thanks to the twin air-intake tubes the POWERBREATHER is streamlined, stylish, easily adjusted and comfortable. Enjoy relaxed deep breathing and all round vision at all times.

Core Benefits for Swimmers and Triathletes:
1. Strength and endurance training thanks to constant fresh air
2. Freedom to focus on swim technique training
3. Specific respiratory muscle training to increase respiratory volume
The combination of these three benefits is unique to the Ameo Powerbreather as shown on many online videos by many of the world's top athletes!
Core Benefits for active Snorkelers and Freedivers:
1. Continuous fresh air supply simplifies and increases safe breathing over longer distances (no pendulum breathing)
2. With the AMEO FRESH AIR SYSTEM there is no need to blow water out (from the bottom to the top of the tube against gravity when resurface after diving. Fluids and water simply drain down, by gravity into the water (unnoticed by the swimmer/diver)
3. Innovative valve technology helps to keep water out of the tubes when diving
4. The POWERBREATHER fits all swimmers safely all the time and is stable at any speed