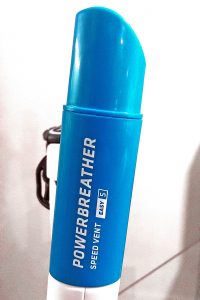 GREAT NEWS! Swimming with a Powerbreather is now EASIER than ever thanks to some exciting product development work, on the membranes inside the Speed Vents.
There are now three different types of SPEED VENT – offering different levels of breathing resistance but no change in keeping water out – Easy, Medium and Power.
You will now start at the Easy level, which is virtually nil resistance, normal breathing, ideal for beginners and snorkelers, and then simply upgrade to Medium or Power when you want to boost your lung and fitness training for competition purposes.
As from 9th February 2017 all Powerbreathers will come as standard with EASY Speed Vents, so much easier to use for everyone, not just top athletes! In the past they all came with MEDIUM Speed Vents, which some found too advanced. Now we have something for everyone, including you!
SPEED VENT RESISTANCE
SPEED VENT easy – for relaxed, natural breathing while swimming or active snorkeling-diving. These come with all new Powerbreathers and offer the least breathing resistance. They take the least amount of effort to get used to and are recommended for training on technique when you want easy breathing.
SPEED VENT medium – for a moderate intensity training of the respiratory muscles. These are available as an upgrade in either standard or long lengths. This is a great upgrade for someone who wants to develop their respiratory muscles and works well in tandem with the easy Speed Vents. These were on all Powerbreathers sold before 9th February 2017.
SPEED VENT power – for high-intensity [strength/endurance] muscle training. These are available only in the shorter standard length. They offer the most resistance and are designed for high end athletes only. This is the highest intensity speed vent we offer – designed with World Champion Jan Frodeno.
PACKAGES
We have created some special packages on the shop including the standard Easy speed vents and Medium speed vents for those looking to use both in their workouts from the start, or who may be uncertain which they will prefer. These packages also come with a FREE AMEO Swim Cap.
All Speed Vents, Powerbreathers and packages are available at the POWERBREATHER UK Shop.